As readers of trombonechat.com know, I post to this forum very infrequently. This is post number 21 from me in over two years since I joined the club. My life is full and happily busy with performances, teaching, writing, travel, and the joy of living near our grandchildren. I don't use social media. Most of my posts to trombonechat.com have been to ask questions of the community to help inform some of my research projects. I have not joined in on this discussion about Henry Fillmore's
The Trombone Family
since what I have to say on the subject has already been said in the several articles I have recently published on my blog. Others have been directing the conversation here.
So, I won't comment further on the issues that I brought up in my articles. But I thought, particularly for the benefit of our young members (and perhaps some others), I would add a few thoughts that might answer a question that some might have. That is:
"What qualifies Douglas Yeo to make statements about Henry Fillmore, Lassus Trombone, and the intersection of race/racism on music?"
That's a really good question.
First, anyone can have an opinion about anything. One does not need to be an "expert" to have an opinion.
Having an opinion is fine. Having a well-considered, well-thought out, well-articulated opinion is even better. But having extensive knowledge that informs that opinion helps one offer a little more to any discussion. A little bit about how I came to learn what I know about The
Trombone Family
and the views I have expressed on race, racism, and minstrelsy might be helpful to others who, as they travel life's path, find subjects that interest them that they may wish to comment upon with an informed view.
Some on this forum know about my long career as a trombonist and educator. Some may also know of my many years of work as an historian, researcher, and author. The
ITA Journal
has published many of my articles that have been the product of many years of research. Among them include (with a few links):
A Pictorial History of Low Brass Players in the Boston Symphony Orchestra, 1887-1986
International Trombone Association Journal, Volume XIV, Number 4, Fall 1986.
http://www.yeodoug.com/articles/Yeo_ITA ... s_1986.pdf
Edward Kleinhammer: A Life and Legacy Remembered
International Trombone Association Journal, Vol. 42, No. 2, April 2014.
http://www.yeodoug.com/articles/Yeo_ITA ... ribute.pdf
Evolution: The Double-Valve Bass Trombone
International Trombone Association Journal, Vol. 23, No. 3, July 2015.
http://www.yeodoug.com/articles/Yeo_ITA ... ombone.pdf
Take It, Big Chief: An Appreciation of Russell Moore
International Trombone Association Journal, Vol. 45, No. 3, July 2017.
http://www.yeodoug.com/articles/Yeo_ITA ... _Moore.pdf
Finding Marguerite Dufay
International Trombone Association Journal, Vol. 47, No. 1, January 2019
Keith Brown: Renaissance Man
International Trombone Association Journal, Vol. 47, No. 3, July 2019.
http://www.yeodoug.com/articles/Yeo_ITA ... ribute.pdf
These articles all began because I had an interest in the subject. From interest came a motivation to learn more which lead to research. Not pawing through pages of Google search pages, but research in libraries and archives, conducting interviews with others, asking questions. None of these articles were what the academy refers to as "peer reviewed." A peer reviewed article or book is one that is not published until the publisher convenes a panel of experts, known as "referees," to review the author's work. The selection of the referees is an important part of the process, and referees can and should be very tough on an author. They check an author's sources, review the author's presentation of factual material, and ensure the publication is factually accurate. The
ITA Journal
is not peer-reviewed, but in my research articles that it has published, I have conducted my research and writing in the same way I do for my peer-reviewed publications. A look at the articles mentioned above will show that I often have a long list of people to thank who informed my research and writing. Many of my articles are copiously footnoted to give my sourcing.
In addition to my many articles for the
ITA Journal
and many other journals and magazines, I have also had many peer reviewed articles, dictionary entries, and book chapters published. These have been rigorously vetted by peer referees. Each went through multiple revisions and were accepted for publication. These include:
Serpentists in Charles Wild's Choir of the Cathedral of Amiens, c. 1826.
Historic Brass SocietyJournal, Volume 13, 2001.
http://www.yeodoug.com/articles/Yeo_HBS ... s_2001.pdf
A Good Old Note: The Serpent in Thomas Hardy's World and Works.
The Hardy Review (Journal of the Thomas Hardy Association), Volume XIII, Number 1, Spring 2011. [This is the print version of a paper I presented at a conference at Yale University.]
http://www.yeodoug.com/articles/Yeo_Ser ... w_2011.pdf
Serpents in Boston: The Museum of Fine Arts and Boston Symphony Orchestra Collections
Galpin Society Journal, Volume LXV, March 2012.
Book chapters:
The Serpent in England: Evolution and Design
, and
The Serpent in England, Context, Decline and Revival
Florence Gétreau, editor, Le serpent: itinéaires passés et présents. CNRS Editions, 2013. [This is the print version of a paper I presented at a conference in Paris.]
Serpent
Grove Dictionary of Musical Instruments, Second edition. Oxford University Press, 2014.
Buccin
Grove Dictionary of Musical Instruments, Second edition. Oxford University Press, 2014.
Homer Rodeheaver: Reverend Trombone
Historic Brass Society Journal. Vol. 27, 2015.
http://www.yeodoug.com/articles/Yeo_HBS ... r_2015.pdf
Book chapter:
Marches and Divertimenti: Haydn and the Serpent
Monica Lustig, editor, Der Zink – Geschichte, Instrumente und Bauweise. Michaelsteiner Konferenzberichte Band 79, 2015. [This is the print version of a paper I presented at a conference in Michaelstein, Germany.]
Concurrent with these kinds of research projects has been my work on several book projects for major publishers. Two are in progress:
The Trombone Book
Oxford University Press
An Illustrated Dictionary for the Modern Trombone, Euphonium, and Tuba Player
Rowman & Littlefield
Another book is now in production for publication in spring 2021:
Homer Rodeheaver and the Rise of the Gospel Music Industry
(coauthored with Kevin Mungons)
University of Illinois Press
And it is my work on this book on Homer Rodeheaver that informed, in large part, my recent articles about Henry Fillmore,
The Trombone Family
, minstrelsy, and race.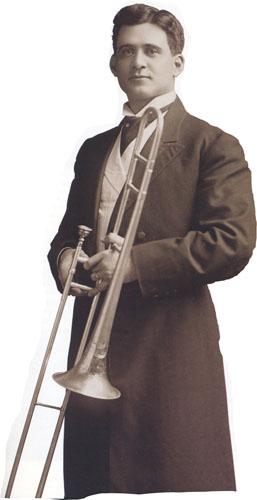 Homer Rodeheaver with his Lyon & Healy trombone, c. 1908.
Rodeheaver is an interesting subject for a biography. I began researching him in 2012 after I became aware of him and his connection to the trombone. After all, the man played the trombone in front of over 100 million people during his lifetime (1880-1955). I wanted to know more about him. As I learned more, I thought about writing an article about Rodeheaver for the
Historic Brass Society Journal
. In the course of my research—actually when I was trying to track down a copy of an endorsement Rodeheaver had made for Conn trombones—I contacted my friend, Margaret Downie Banks, Associate Director of the National Music Museum in Vermillion, South Dakota. With the museum's large collection of Conn instruments and related materials, she was very helpful. But she also mentioned that I might want to contact someone who had been asking her some questions about Rodeheaver for a number of years. That led me to connect with Kevin Mungons who had been researching Rodeheaver for a long-planned book project. As we got to know each other, we learned that we had a lot of shared interests (Kevin is also a trombone player), and we thought we might put our heads together (using the old "two heads are better than one" idea) and co-author a biography of Homer Rodeheaver. Even before the publication of my peer-reviewed article about Rodeheaver in the
Historic Brass Society Journal
—the article focused on Rodeheaver's work as a trombone player and trombone icon, although it touched on other aspects of his life and work—we began working write a book. Our book proposal was accepted by University of Illinois Press and several years and 130,000 words later, we had a manuscript to submit to the Press.
Here is our abstract for the book:
Homer Rodeheaver rose to national prominence in the early 20th century as the trombone-playing songleader for Billy Sunday. For twenty years they captured attention with city-wide revival meetings, a mix of sincere devotion, popular religion, and modern marketing methods. In an era when music styles were emerging as marketable genres, Rodeheaver created a brand of gospel music that cast an enormous influence on popular music. Borrowing from evangelical hymns, African American spirituals, and popular music, he built a publishing empire in Chicago, selling hymnals as a way to encourage community singing. When tabernacle revivalism declined after World War I, Rodeheaver shifted to other ventures, bolstered by his personal popularity in a growing celebrity culture. He started the first gospel record label in 1920, then shifted to radio, where his community sing programs ran on three national networks. Near the end of his life, he strongly influenced Billy Graham and Cliff Barrows, the next generation of evangelical revivalists.

The authors explore the birth of the commercial Christian music industry and its roots in congregational singing—its early rise as a communal, populist form that would later divide into racial and regional distinctions known as southern gospel and black gospel. As the first major biography of Homer Rodeheaver, the book explores the impact of racial segregation, the influence of technology, and the consequences of commercial Christian music.
As I mentioned above, Rodeheaver is an interesting subject. He and Henry Fillmore were good friends; one can read a little about their friendship and activities together on a revival tour when the two of them were young men in Paul Bierley's biography of Fillmore,
Hallelujah Trombone! The Story of Henry Fillmore
(Columbus: Integrity Press, 1982), 24-26. Fillmore later published an arrangement of gospel songs to which Rodeheaver owned the copyright,
Billy Sunday's Successful Songs
(Cincinnati: Fillmore Brothers, 1916). Kevin interviewed Bierley in the course of our research for this book (Bierley died in 2016).
Rodeheaver's life had complex intersections with African Americans and the subject of race. In the course of our research, I did a deep dive into this, collecting over 100 books that informed my knowledge of African American spirituals, black and white gospel music, race records, coon songs, minstrelsy, blackface, racial segregation, lynching, and the Ku Klux Klan. Add to that hundreds of newspaper articles, peer reviewed articles, journal articles (some dating back to the 1880s), recordings, and interviews. And many hundreds of hours in libraries and archives, digging through piles of papers and photographs. Kevin did the same, and together, we amassed a large library of materials. Why did I do this, you might ask? Because all of these subjects were tied up in Rodeheaver's life. As we write in our abstract for two of the book's chapters:
Chapter 7: Spirituals and Minstrelsy
The African American spiritual emerged as a devotional and performance idiom in the early twentieth century, promoted in black and white communities and churches through the work of Jubilee Singers, and in secular and sacred contexts. Homer Rodeheaver played an important role in their early commercial history by transcribing performances of spirituals for publication in his hymnals, championing them in evangelistic meetings, and recording them with black gospel singing groups. The authors explore Rodeheaver's quest for authenticity in spirituals, their transformative religious meaning, their connection to minstrelsy, and their influence on their development American popular music, Rodeheaver's personal interest in black culture is also examined through his performances of the poetry of Paul Laurence Dunbar, presented in dialect and blackface.
Chapter 8: Jim Crow Revivalism Meets the Klan
Racial segregation and Jim Crow affected nearly every aspect of American life in the 1920s, including revivalism. When southern audiences demanded segregated tabernacle meetings, Billy Sunday and Homer Rodeheaver tried to ameliorate the situation by meeting with black ministers and organizing choirs from black churches. But despite Sunday and Rodeheaver's fame for preaching against every form of sin, they were noticeably silent on racism. Their policy of welcoming every group to the tabernacle sometimes included delegations from the Ku Klux Klan, who gave Sunday donations that he never refused. Despite Rodeheaver's genuinely harmonious relationships with African Americans and his lifelong promotion of the spirituals, his far-flung business interests created awkward contradictions. His Chicago studio made custom recordings for the Klan, including a parody of Rodeheaver's "The Old Rugged Cross" with KKK lyrics, "The Bright Fiery Cross."
As you can see, I've been immersed in this for the last several years. It was in the course of my research about Fillmore, Rodeheaver, and various subjects relating to race that I uncovered the racist advertisements for Fillmore's
The Trombone Family
. The subject is fraught with complexity, and Kevin and I worked to untangle some of it. This untangling led to conversations with leading voices—both academic and popular, both white and black—on the subjects, and the many sources we collected allowed us to address Rodeheaver's intersection with race with an informed view. It became clear to us that many scholars who have made assumptions about some of these issues did not take into account important primary source materials that are in some cases over 150 years old. We are now living in a golden age of research tools, and so many materials are now available to us that were not available in the past. We learned that it is not enough to learn what "the experts" say about issues. It was important to dig deeply to discover previously overlooked sources and learn what had been said by voices that had been silenced.
When we completed our manuscript, the three peer referees did their work. We then worked to answer their questions, defend our research, gather new information, and engage in a rewrite that addressed their comments and those of our editor. The revised manuscript went back out for peer review once again, and after working through their comments, our manuscript was presented to the faculty review board for University of Illinois Press. With their approval, the book has now moved into production with a planned publication date of sometime in spring 2021.
I hope that our young readers, and perhaps some who are not so young, are seeing that the matter of research is a complex, time-consuming enterprise. One does not sit down and write about complicated, thorny subjects without first having done one's homework. Writing a peer-reviewed article or book is not like writing a term paper on "My Summer Vacation." Rigorous standards of research must be met; every source is checked, every assumption is challenged, every word is parsed. But at the end of the process, one hopefully has something that, once published, will inform the public with an accurate and, hopefully, an engaging portrayal of historical events and personalities.
My recent articles about Henry Fillmore's
The Trombone Family
were informed by this research, these many years of immersion with primary source materials, individuals, and commentaries. My recent articles were not footnoted since I provided all of the sources for the materials I cited in the article itself. But the basis for my research is sound, having already been vetted previously.
When I was Professor of Trombone at Arizona State University (2012-2016), I had the pleasure of serving as advisor for several doctoral students who had to write dissertations/research papers. My commitment to academic rigor sometimes proved to be a challenge for them, as I always insisted that they quote primary sources, and I insisted they should NEVER quote a secondary source unless a primary source could not be found. Some of them were a little discouraged when they learned that the process of researching usually costs money. Sometimes you need to pay for access to materials, or to have an archive make scans (or, in the "old days," microfilm) of manuscripts or letters. For instance, for my article about Haydn and the serpent (referenced above), I had to spend about $3000 to obtain music and letters from archives in England and Germany that not only informed my research, but added new insights to what we know about Haydn in England. For the Rodeheaver book, I've spent multiple thousands of dollars in the collection of source materials, trips to archives and libraries, and such. Not everything is on the internet. But when we want to become deeply informed about a subject, all of the cost is well worth it for the knowledge that we gain.
All of this is to say that the subject of research and who is qualified to speak on a subject is one that is very, very complex. I don't think anyone is ever an "expert" on anything. There is always more to learn. But I think we can all be grateful for the work of researchers, historians, and authors who spend years learning about various subjects and then share those insights with others. Likewise, as our moderator has just wisely said, it is foolish to think anyone but a "recognized academic" can have useful insights about a host of subjects. One is not born knowledgable. Living life gives us knowledge. And knowledge can lead us—any of us—to learn more, dig more deeply, and share what we have learned. When that sharing is done with the background of a rigorous approach, the results can be especially informative and helpful. Every researcher—whether a "recognized academic" like me or a layman—lays the groundwork for the next researcher. The work is never done; nobody ever has the last word. Sometimes research brings up ugly truths. But when such ugly truths are exposed, they can lead to understanding and action as we learn from the lessons of history.
With kind regards to all,
-Douglas Yeo